Congratulations to GWArc's Staff Longevity & Community Recognition Award Recipients!

The following Staff Longevity and Community Recognition Awards were presented at GWArc's 59th Annual Meeting on November 9, 2015.
Congratulations to our dedicated staff members!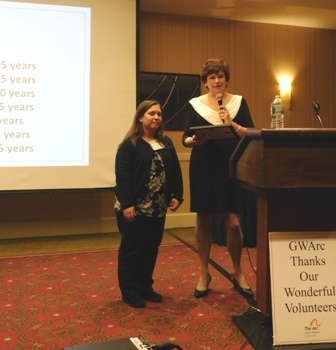 Daisy Antonini (left), Manager of GWArc's Transitions Program, receives an award for 15 years of service from Roz Rubin, GWArc CEO.
Fifteen Year Award
- Marie Abelard, Daisy Antonini
Ten Year Award
- Roslynn Rubin
Five Year Award
- Maurice Carter, Peter Cohen, Leah Igdalsky, Amy Kingsbury

Congratulations to our community award recipients!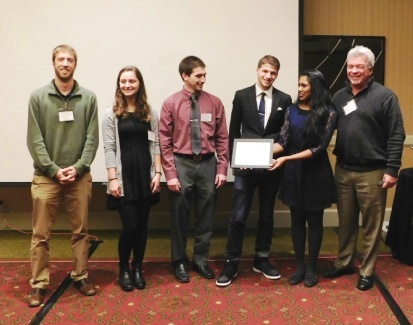 Members of the Waltham Group of Brandeis University accept the 2nd Annual "Rags" LaCava Community Service Award. Bud LaCava (far right), Rags' son, presented the award on behalf of the LaCava family.
"Rags" LaCava Community Service Award
- The Waltham Group of Brandeis University
Volunteers of the Year
- Marilyn Lefort and Bernadette Bourque
Community Service Award
-
Kelly Cronin, Community Relations Manager, Watertown Savings Bank
Special Recognition Award
- Stewart Woodward
Business of the Year Award
- Andrea Sbordone, Director of Life Enrichment, EPOCH of Weston Senior Living
Employer of the Year
Award
- Terry Sutherland, Customer Service Manager, Shaw's, River Street, Waltham
Outstanding Community Leadership Award
– Rockland Trust Charitable Foundation, Alla Ovechkis, Assistant Vice President/Branch Manager, Rockland Trust
Self Advocate of the Year
- Joe O'Connell
1st Annual John L. Battaglino Award for Excellence
- Lawrence J. Lane, founder of GWArc (presented to the Lane Family)